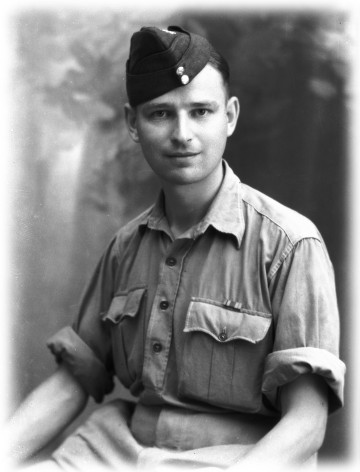 In October 1942 he was sent with others on a two week course dealing with dummy flare paths and the netting of Spitfires and Hurricanes for camouflage purposes. This course was held at Sound City Shepperton, the headquarters of Colonel Turner's camouflage and decoy department of the Air Ministry.
In November he was posted temporarily to New Romney, Kent, to assist in the erection and manning of a dummy airfield (assembling models of Spitfires and Hurricanes under cover of darkness). It was whilst here that he thought his number was up, when the train he was riding came under fire from an enemy aircraft. By remarkable luck, the steam-engine's boiler exploded after being hit, with its flying debris in turn bringing down the fighter.
He returned to Willoughby in December only to be posted overseas in January 1943. Service in North Africa took him to Setif, Bone, Souk-el-Arba and La Sebala near Tunis; in Sicily to Borizzo near Trapani; and in Italy to Grottaglie near Taranto, Pomigliano d'Arco near Naples and Foggia. The intended purpose was the operation of dummy flarepaths to attract enemy bombers away from allied aerodromes but their equipment being far superior to that in use for the genuine thing, he was posted on detachment with three others to illuminate airstrips for 255 Night Fighter Squadron (Beaufighters).
On cessation of hostilities in Europe he was posted to No 6 Base Personnel Office at Portici, Naples, for clerical duties, and reached the rank of Corporal. While there, he developed a love of opera, attending many performances at the San Carlo opera house.
In April 1946 he returned to work in Norwich at the Health Department, where he met his future wife Margaret. In November 1947, at the parish church of Thorpe St Andrew, they were married by the rector, the Reverend R Fielding, and made their home nearby in Margetson Avenue. There were two children: Philip Charles (1950) and Jonathan George (1955).